Covid-19 Secure Guidelines For Passengers
Booking conditions relating to COVID-19
The safety of our staff and passengers is our main concern, so we will be following Government guidelines when operating. We ask that customers familiarise themselves with the guidelines before boarding and adhere to these guidelines at all times when on board.
Coronavirus (COVID-19): Meeting with others safely (social distancing)
From Monday 14 September, when meeting friends and family you do not live with you must not meet in a group of more than 6, indoors or outdoors.
We can still host larger numbers in total but groups of up to 6 must not mix or form larger groups. This rule will not apply to individual households or support bubbles of more than 6 who will still be able to gather together.
A booking which consists of more than 6 people and is made under one booking name/reference will not be accepted.
Each booking will be limited to a maximum of 6 people per table to ensure that a safe social distance of both guests and staff is respected and maintained.
The distance between tables has been increased in line with government recommendations for social distancing (1+ metre apart).
You will be given your table number on arrival to the vessel.
When away from your table or walking around the vessel please wear an appropriate face covering, adhere to social distance guidelines and follow instructions on signs on the pier and vessel.
Table service only. You can order drinks via an app on your phone or with a waiter/waitress. Drinks will then be delivered to your table. Customers cannot order drinks at the bar.
Mandatory hand sanitising when boarding the vessel for all passengers and staff. We have installed numerous hand sanitiser stations throughout the vessel that should be used frequently.
Customers should bring their own mask or will be provided with a face covering when on the pier prior to boarding. Masks are mandatory on entering the pier, in accordance with TfL terms and conditions.
When on the pier we ask that you adhere to the two-metre guideline. The queuing point will be established outside of the pier entrance gate. When on the vessel we ask that you adhere to the 1+ metre guideline.
Please follow instructions on signs on the pier and vessel.
All passengers are subjected to mandatory temperature checks upon access to the vessel.
Any passengers showing signs of symptoms of COVID-19 will be refused entry to the vessel.
Music will be kept at a volume in line with current Government guidelines
All bookings are subject to vessel transfers and/or operational changes.
Test and Trace Update
There is a new legal requirement for all venues to display an official NHS QR code poster and to ask customers to check in on arrival. This must be completed through the NHS COVID-19 app.
In order to speed up the boarding and check-in process, please download the app prior to your arrival at the pier.
You can download the app using the links below…
Download on the App Store - https://apps.apple.com/us/app/id1520427663
Get it on Google Play - https://play.google.com/store/apps/details?id=uk.nhs.covid19.production
On arrival to the pier we will issue you with the QR code to complete your check-in. Once you have checked in using the code you will receive a verification message on your phone which you will need to show to boarding staff to gain entry on to the vessel. Please note, that without this verification code you will be refused entry and no refund will be given.
For more information, please see the NHS website using this link - https://www.nhs.uk/apps-library/nhs-covid-19/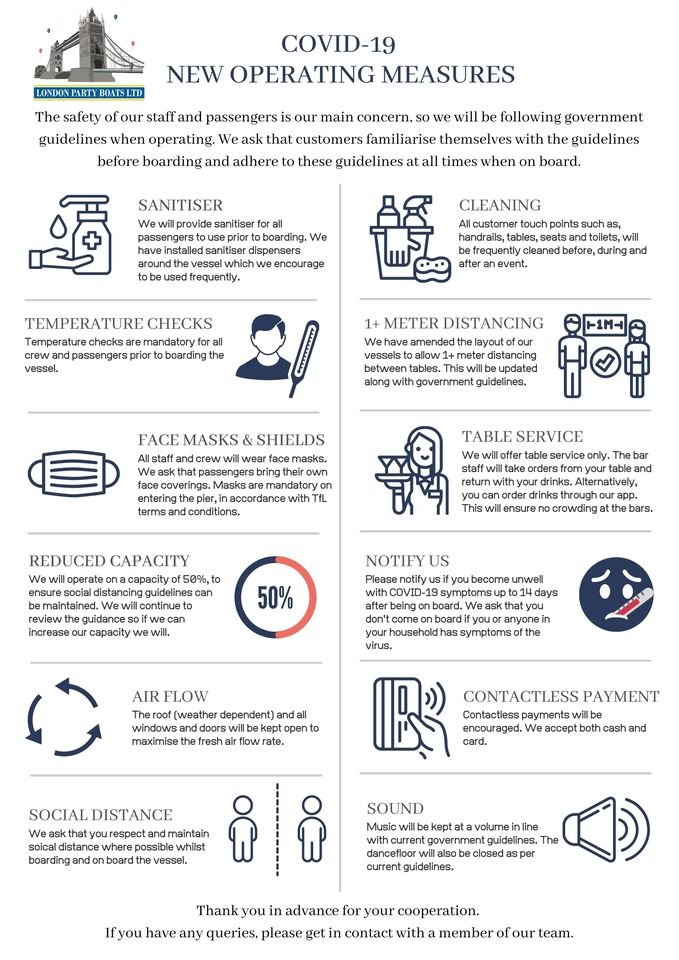 MV Pearl of London: Covid-19 Secure Seating Plan
(1+ Metre) for 138 Passengers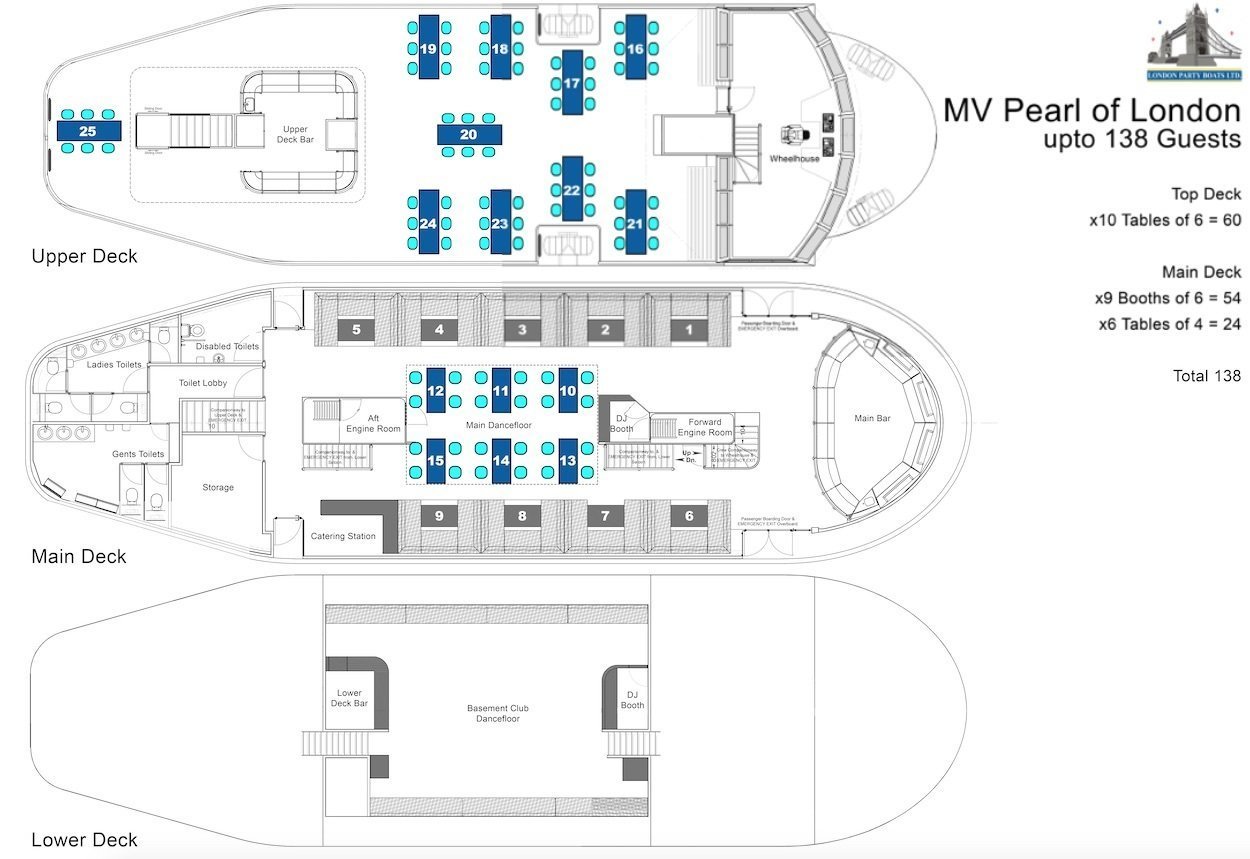 MV Jewel of London: Covid-19 Secure Seating Plan
(1+ Metre) for 146 Passengers