Cocktails
For reception drinks with a difference why not try one of our cocktails from our cocktail menu? Prices are including V.A.T.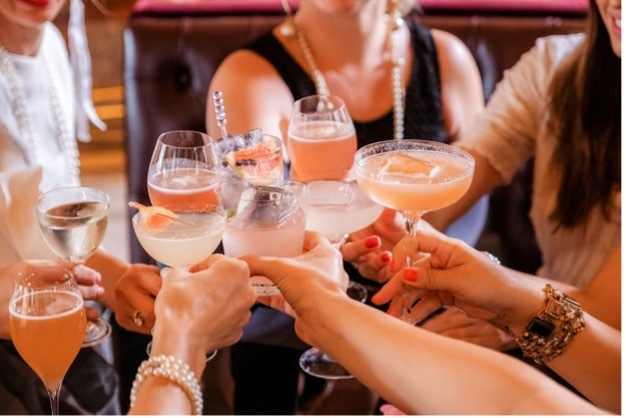 PORNSTAR MARTINI - £9.50
The Pornstar Martini. Here's three reasons why this is the UK's favourite cocktail. 1. It tastes incredible. 2. It feels a bit naughty to say Pornstar in Public. 3. You get a free shot of Prosecco when you order it in a bar. Crammed with pure Ecuadorian Passion Fruit puree, triple distilled vodka, vanilla and sugar syrup!
ESPRESSO MARTINI - £9.50
The Espresso Martini. When world famous bartender Dick Bradsell created this incredible cocktail at the Soho Brasserie on Old Compton Street, did he think this would become one of the biggest selling cocktails in the world? We think he did. The only thing artificial about the Espresso Martini would've been the smile he gave people when he heard "this should wake me up" for the 300th time that day. We've kept it that way. Cold Brew Coffee, triple distilled vodka and our own coffee and caramel liqueur make our version of this Cocktail as real as the original.
STRAWBERRY DAIQUIRI - £9.50
A happy mistake. In 1860's Maryland, USA, during a rum-fuelled party an Ice-Cream maker and Strawberry farmer named Christian Zacharias, decided to mix the strawberry puree for his ice-cream with contraband British Navy rum. The increasingly tipsy frolickers not only tested and perfected the smoothest mix of strawberries, rum, and ice, but they also utterly destroyed Mrs. Zacharias' strawberry patch! This Cuban Classic provides the ultimate refreshment. Our version of this world famous cocktail uses NFC strawberry puree, NFC lime juice and premium Carribean Rum. Enjoy with a squeeze of lime.
PIÑA COLADA - £9.50
The story goes that in 1954, bartender Ramón "Monchito" Marrero of the Caribe Hilton in San Juan created a new cocktail that mixed rum, coconut cream and pineapple juice - and the Piña Colada was born! In 1978, the Piña Colada was declared the official drink of Puerto Rico. Our version of this classic cocktail combines premium coconut milk with NFC pineapple juice and Caribbean rum. The outcome is a perfect Piña Colada that is pure holiday in a glass!
COSMOPOLITAN - £9.50
The Cosmopolitan. It's an oldy but a goody. When Toby Cecchini of the Long Island Bar in New York invented the modern-day Cosmo in the late 1980's did he think it would become the cultural icon it is today? Probably not…The Cosmo was born with shoulder pads and big hair but became sophisti-chic in the 1990's thanks to Carrie Bradshaw and her friends. We've made our Cosmo perfectly faffless. Cranberry Juice, Vodka, Triple Sec and Lime Juice are expertly mixed.